The salivent® principle / Breathe as if you were at the ocean
You can now use the power of the ocean simply anywhere for your health and well-being. Breathe easy with salivent®! The salivent® aerosol inhalator offers children and adults a pleasant inhalation of saline, microfine aerosols like experiencing wind force 10 on the North Sea. Your medical wellness walk along the ocean.
From time immemorial, the inhalation of saline water particles has been used as a supportive respiratory therapy which soothes and naturally relieves coughs, colds, allergies, asthma and other respiratory illnesses. The conscious inhalation and exhalation acts in a physically and mentally relaxing manner so that the active regeneration and health of your body is noticeably promoted.
Patients with chronic bronchial conditions know how beneficial a stay on the coast can be: When inhaling the natural sea salt in the air, relief comes quickly.
We recommend the salivent® aerosol inhalator for
- Coughs, colds, hoarseness
- Hay fever, allergies and asthma
- Chronic and acute respiratory illnesses
- Inflammation of the respiratory tract, nose and sinuses

More to know!

The salivent® principle / Your salivent® aerosol inhalator
The purest relief! And so easy. With the salivent® aerosol inhalator, children and adults inhale saline, microfine aerosols which reach the large bronchial tubes and the deepest lung areas (so-called alveoli) over the nose and throat and ease breathing.
Just how does it work? Conscious inhalation with short pauses creates fine and the finest respirable aerosols with a mass median between 1 and 2 μm. These reach the bronchial tubes and the finest alveoli – warmed to a pleasant 38°C body temperature – via the nose and throat. Here they exert their effects and
- ease breathing
- stimulate the mucous or secretion formation
- ease expectoration
- act as anti-inflammatory
- stimulate the self-cleaning power of the body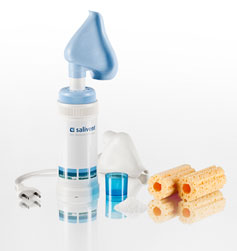 Inhalation (Latin for "the breathing") which inhaling, in a narrow sense, is the intake of remedies which are already in a respirable form (gases, vapours, aerosols) or are converted to a respirable form for this purpose (through atomising or nebulising of fluids). The substance to be inhaled can either be absorbed using a mask which directly supplies the desired amount and concentration to the person being treated (e.g. also for anaesthesia purposes) or it can be absorbed by several people at the same time in an area specially for this purpose (inhalatorium) where the air is enriched with the gas or liquid mist. The droplet size determines the place where the substances are most effective: Larger droplets reach the mucous membranes, smaller ones in the large bronchial tubes and the finest in the alveoli. In balneology, healing water inhalation as well as the inhalation of surf aerosol and at salt works are particularly customary. (Source: Brockhaus)
At salivent® , we have compiled some interesting information for you which will help you better evaluate the symptoms of a cold-related illness and recover again as quickly as possible.
Some tips for preventing colds
Even if statistically speaking, almost everyone gets a cold at least once a year that does not mean that you have to get one too. You can reinforce your immune system and prevent infections with suitable means. We do not realise when viruses settle and reproduce on a large scale. This process takes place over two to three days. We feel listless, our nose starts to run, a headache and sore throat appear and, depending on that, a cough starts which - particularly at the beginning of the cold - sits firmly in the bronchial tubes. In other words: We have a cold which is very unpleasant but actually harmless! But be careful: Usually, the sentence "a cold lasts 14 days with a doctor and 2 weeks without one..." is, indeed accurate but colds can be the start of other, more serious illnesses like bronchitis or pneumonia if the initial symptoms are not directly and thoroughly combated and the pathogens settle in the deeper respiratory tracts. Reason enough to always keep our immune system on its toes. Please distinguish between a cold which is caused by viruses and influenza which, by the way, you can be immunised against, which is caused by bacteria.
Good to know if you do get a cold:

Coughs serve to clean our lungs from dust, mucous accumulations or foreign bodies. Dry coughs can announce a cold particularly in connection with painful bronchia. What to do? In addition to the general measures, you should:
Stop smoking.
Drink cough or bronchial tea.
Make sure there is high humidity in the rooms.
A congested nose is the most frequent cold symptom and is often the most annoying. The cold virus is passed from person to person by e.g.g shaking hands. Children have more colds than adults because their immune system is not as well "trained". If the cold lasts longer than three or four days without signs of improving or if pain occurs in the nasal or sinus passages, a physician should be consulted. What to do?
Undertake nasal rinses.
If you use nose drops or sprays, the nasal mucous membranes shrink quickly and for several hours.
Only use "disposable tissues".
Sore throats are a frequent attendant cold symptom. If you "only" have a sore throat without other cold symptoms and if swallowing is very painful, a physician should be consulted. What to do?
Drink sage tea or gargle with it several times a day.
Suck on lozenges containing sage or menthol or mineral salt.
Make yourself a throat wrap (cold or warm).
With all types of colds, regular use of the salivent® aerosol inhalator helps in an especially pleasant way.